Recently, a 1908㎡ naked-eye 3D large LED display constructed by QSTECH was put into use in International Trade Shopping Center at Xi'an Xiaozhai Commercial District. The high-definition 3D effects of whales swimming out of the large screen, attracting citizens and tourists to stop and watch this visual feast! For both locals and tourists, this large LED screen with naked-eye 3D display no doubt will become a new landmark in Xi'an!
1908㎡+8K+265°curved surface
QSTECH creates a super large naked eye 3D screen
The LED display produced by QSTECH for the Xiaozhai business district has a display area up to 1908 square meters and a high-definition display effect with 8K resolution! By displaying naked eye 3D video, the audience can have an immersive visual experience without wearing any device. The 265° curved display screen can bring a full range and multi-angle visual impact to the audience no matter the positions and angles they are watching. In addition, Mosaic-shaped display screens are added on both sides of the center screen, giving more modern and fashion touches to this business district.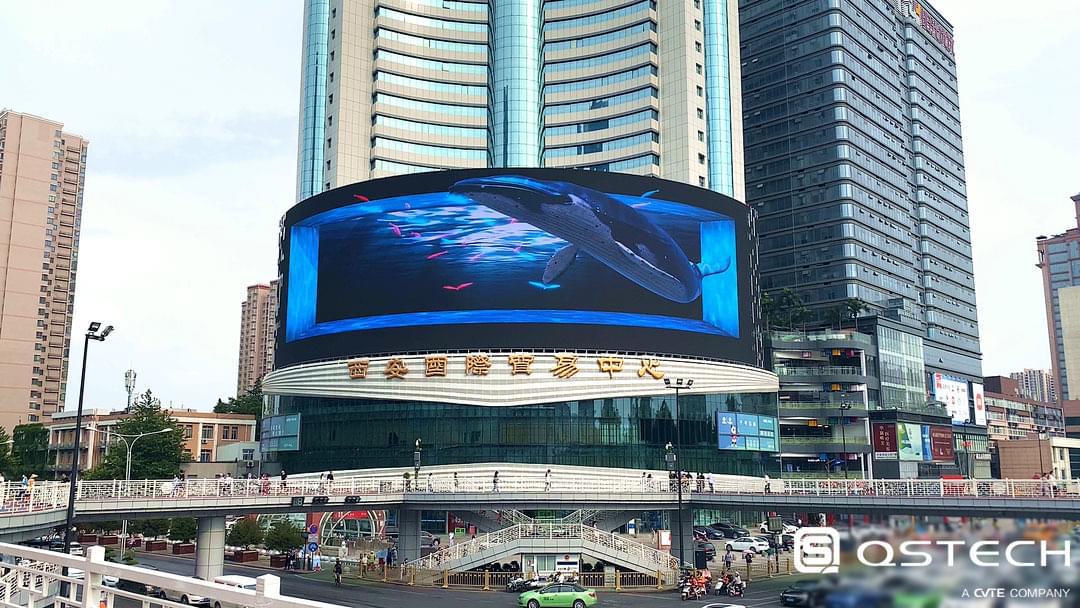 Professional display solutions prove QSTECH strength
For such a large project, benefited from light-weight product structure and efficient installation design, the screen installation process, from assembly to adjustment, took only 10 days! In order to satisfy requirements of curved surface, the transition between adjacent display modules is as small as 0.49 degrees, thus to ensure smooth display surface.
The screen horizontal resolution is up to 8K to meet ultra HD display requirement, and the whole screen has nearly 20 million pixel dots with 7680Hz refresh rate and 8000nits maximum brightness, which represents an industry-leading level. The product in this project uses high-brightness LEDs and PFC switching power supplies to reduce electrical energy loss caused by useless power. Meanwhile, the screen can also automatically adjust the brightness to reduce light pollution and achieve the effect of energy saving and emission reduction. The successful debut of this project once again proves the strength of QSTECH professional customized display solutions!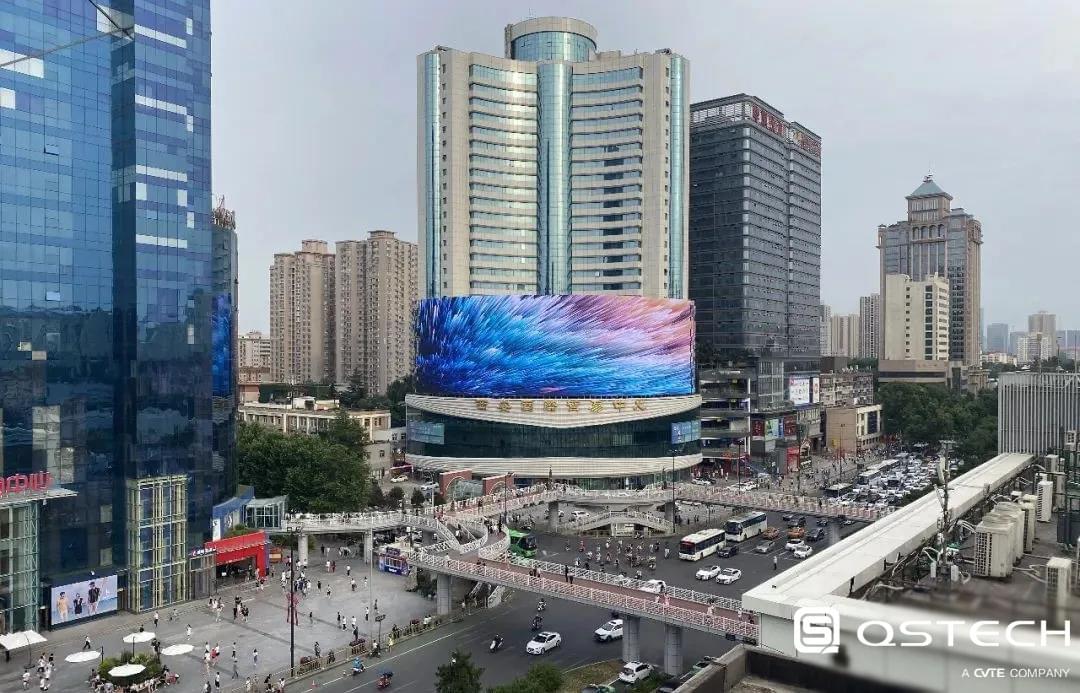 The screen stays the central role of Xiaozhai Business District
Back in 2009, the large screen in Xiaozhai was also installed by QSTECH. The 550 square meters full-color large LED screen has become the focus since then. For 12 years, this screen has keeping presenting stable and perfect displaying effect. By delivering numerous magnificent images for both locals and tourists, the screen witnessed the rapid development of the Xiaozhai Business District.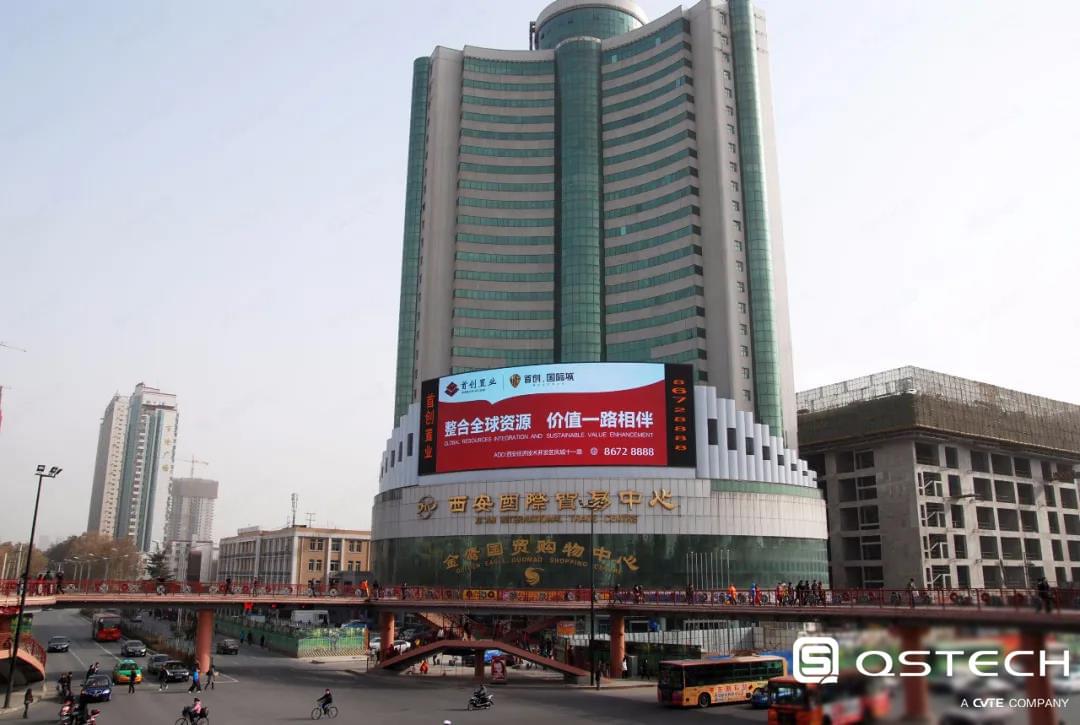 QSTECH advertising display cases are all over the world
In fact, this large screen shines in Xi'an is already QSTECH's "N+1" time to achieve outdoor ultra-high-definition display projects including naked-eye 3D display cases. At home and abroad, in Shenzhen Bao'an Airport, Beijing Xidan Pearl Shopping Mall, Zhejiang Yongkang Convention and Exhibition Center, Xi'an Tangyan Road, Spain, Philippines, United States and etc., QSTECH outdoor display solutions have created many landmarks.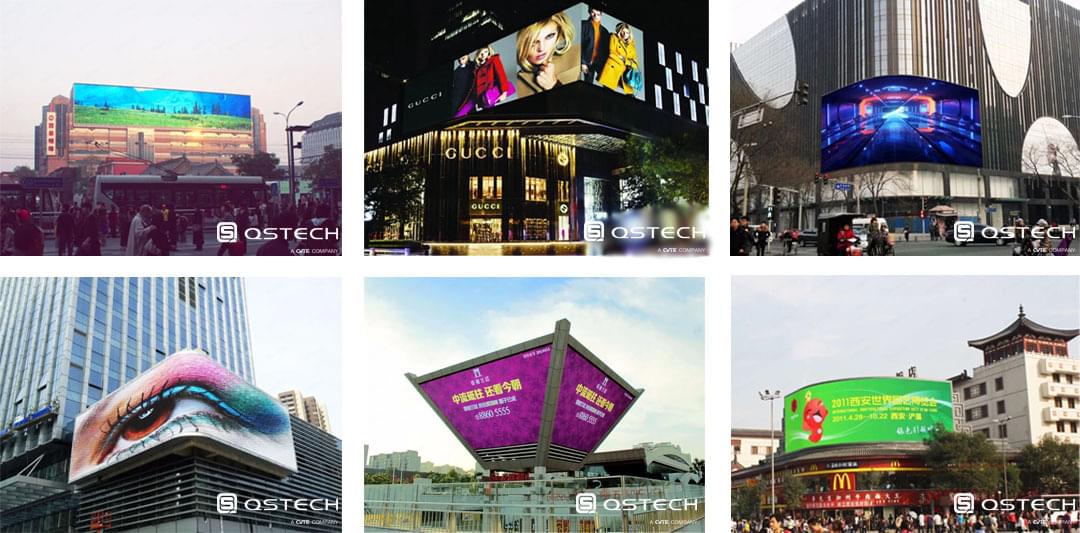 Nowadays, with the continuous improvement of video technology, the application of naked-eye 3D displays is booming. Major commercial centers in big cities of China have successively joined the naked-eye 3D screen camp. "Naked eye 3D large screen" now has even become a fashion standard for measuring commercial centers or big cities. With the help of QSTECH's naked-eye 3D large screen, Xi'an will show the world a more novel, trendy, and modern city.
In the future, QSTECH will continue to development deeply in the LED field, integrate more high-tech solutions into LED display products, create diversified display solutions, and provide high-quality display solutions for various industries and scenarios!