On March 27, 2019, the 15th International Digital Signage Exhibition (DSE) opened in Las Vegas. Founded in 2004, DSE is the world's largest digital signage and interactive integration system trade fair. It serves the fast-growing Digital Signage Industry and is committed to providing innovative digital display and interactive technology solutions for the industry and users.
QSTECH participated in the DSE with innovative digital signage display solutions, including fine pixel pitch creative splicing LED display, foldable all-in-one LED display terminal and of commercial LED poster in different specifications, aiming to show the QSTECH brand strength in creative display application.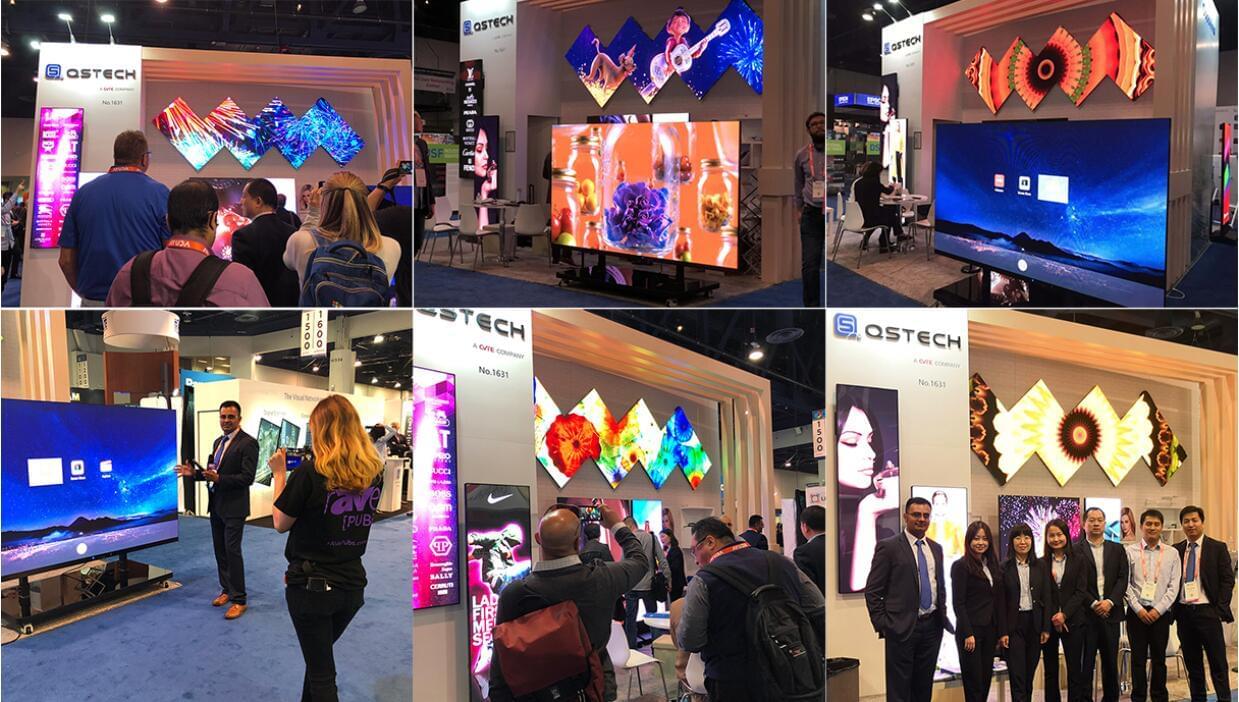 A new product, M WALL foldable all-in-one LED display terminal has made its debut on on DSE. This product is upgraded on the basis of LED all-in-one display terminal launched earlier by QSTECH. The product can achieve foldable transportation for whole unit, ensuring effortless movement from factory to meeting room door or elevator with wheels on the bottom. Besides, it is a plug-and-play product, and can adjust screen height by electric lifting function, which will greatly saving labor cost.
Considering actual application needs in conference rooms and multi-function halls, M WALL adopts a practical display size of 110", and P1.9mm can satisfy high demands for viewing distance up to 1 meter. And the product also has wide viewing angle to allow viewing demands both sides in short distance without any picture clarity attenuation and color saturation. In addition, the remote control makes operation become easier, and M WALL is equipped with multiple interfaces, supporting screen mirroring function for PC, mobile phone, tablet and other devices.
At QSTECH's booth, another eye-catching video wall is spliced by HERA PRO fine pixel pitch series. Except its HD image display effect, the wall-mounting installation mode can also present its ultra-light and slim cabinet structure. The 38 mm screen is literally integrated with the wall, effectively saving space for indoor installation.
In addition to the above two solutions, QSTECH has also brought CRIUS LED poster series to the show. And the "seamless splicing" application of CRIUS new series undoubtedly became the super star at the booth.
Currently, most of LED poster products in the market cannot solve the alignment problem in splicing application. However, CRIUS new series adopts a unique design to achieve seamless splicing without frame, so that the display. 5 units can be spliced into a 138" 16:9 standard display device. Moreover, the product is equipped with intelligent operations including mobile phone APP and PC material release, Internet remote Cloud control and management, greatly improving advertising efficiency.