On February 5, 2019, coincides with the Chinese New Year Festival, the long-awaited European professional audio-visual integrated equipment exhibition (ISE 2019) opened in the RAI center of Amsterdam, Netherlands. ISE represents the highest authority of audio-visual technology in the commercial field, and is also the most influential industry organization in the industry.
As the first important exhibition of each year, QSTECH, as always, has been fully prepared to dedicate a wonderful show at ISE. On the first day of the exhibition, QSTECH booth had attracted many customers from afar to start an unforgettable visual experience.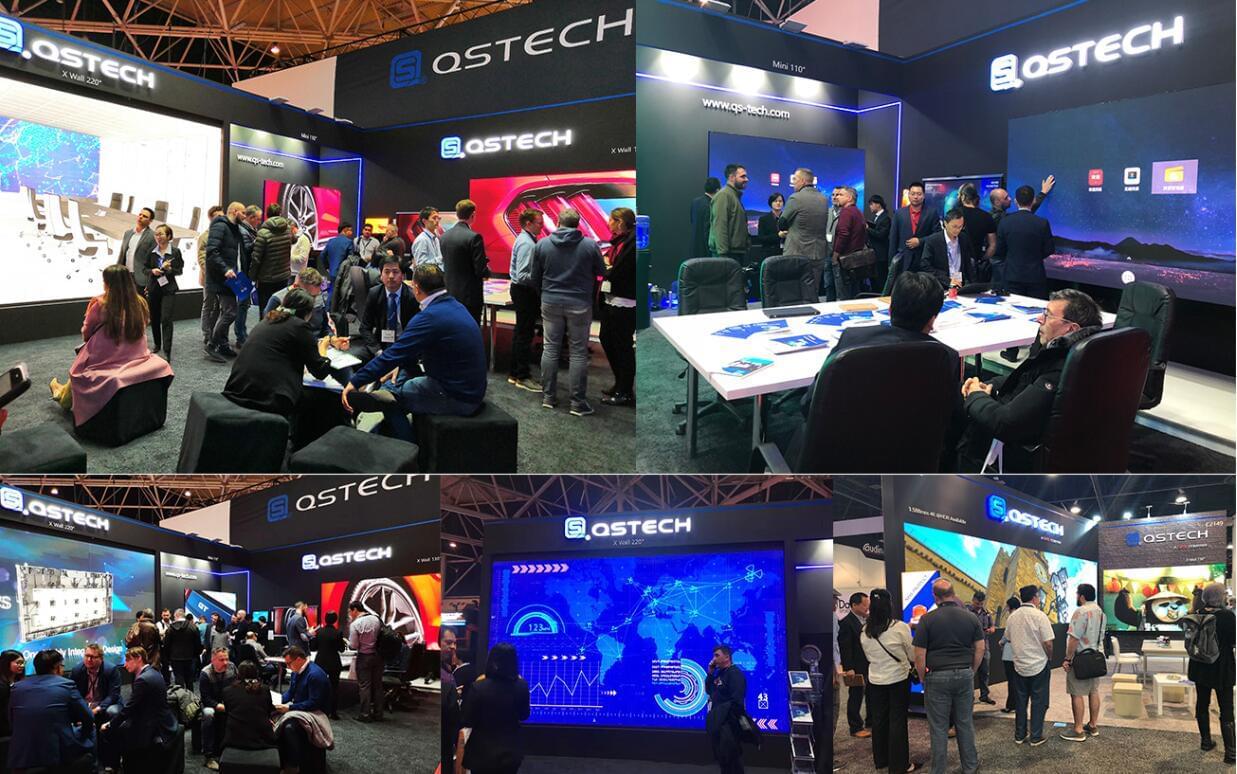 X WALL All-in-one LED Display Terminal
110 ", 138" and 220" X WALL products appeared at the booth, presenting both foot-mounting and wall-embedded installation modes. By creating the application scenario of the conference room, visitors can experience functions including one-button-startup, remote control operation, front maintenance, Welcome Interface edition, wireless screen mirroring, multi-device simultaneous screen sharing, etc.
Mini 110 " All-in-one Display Terminal
Mini110 " all-in-one display terminal made its debut on ISE 2019. This Mini product adopts 4-in-1 LEDs packaging technology, which has higher protection rating, overcomes disadvantages of traditional fine pixel pitch products, and perfectly combines the advantages of surface mounting and emerging COB technology. QSTECH applied Mini technology to X WALL, thus to launch a upgraded display terminal.
HER PRO P0.9mm
HERA PRO P0.9mm ultra-HD fine pixel pitch product enable customer experience a "zero distance" contact with LED display, which allow audience to catch every detail on the screen, especially suitable for diagram and data displaying.
CRIUS New Series LED Poster
The second generation of CRIUS has opened a new era of "seamless splicing" for LED poster. QSTECH CRIUS intelligent LED poster has always been a star product in fine pixel pitch display market, while CRIUS new series adopts a more advanced technology, enabling the product free of installation and achieve seamless splicing for multi-units application, which can be used in various scenarios flexibly.
Ares LT Stadium Display
AERS LT stadium display has supported many projects successfully in 2018. At ISE exhibition, QSTECH presents the perimeter application and share industry-leading technology with visitors.