For the public safety concern, the Infocomm 2020 had to switch to online mode this June. Although we cannot greet customers at our booth, QSTECH still prepared various products at online infocomm show to cope with the situation, and meanwhile brought customers a more efficient visiting virtually.
Focused on improving user experience, QSTECH launched newly designed booth design by creating authentic application scenarios, thus to enable customers to enjoy an all-around display experience with QSTECH display solution in conference room, command and control room and fashion store.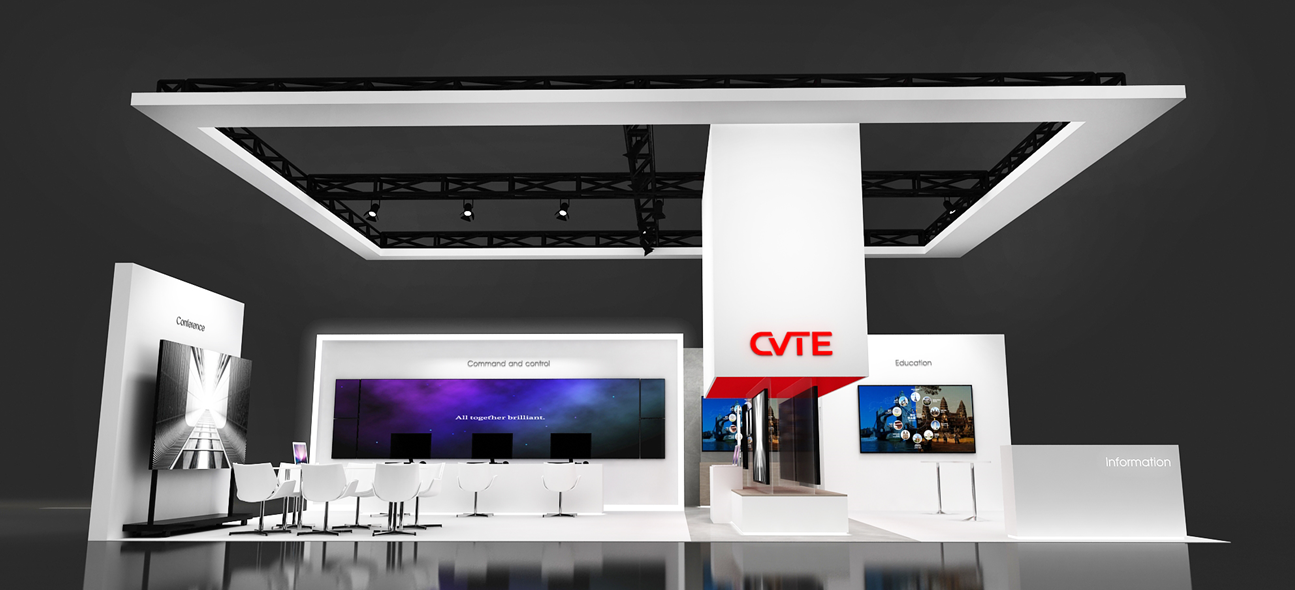 Efficient Conference
Functions including data visualization, multimedia display, and remote conference are becoming essential in modern conference, so come and meet the M WALL-I foldable all-in-one LED display in our conference solution area and you may find an integrated choice for efficient conference. The 110-inch product is available with optional pixel pitches to satisfy no matter small or big conferences, and its foldable screen and wheels on the seat enable flexible transportation from factory to elevator and conference room. Besides excellent displaying effect, M WALL-I also supports instant screen mirroring, multi-device screen sharing, remote conference, QR-code-scan conference memo, empowering every brainstorm inside conference room.

Dynamic Advertising
In this year's Infocomm booth plan, QSTECH specially designed a fashion store to present outdoor and indoor LED commercial solutions by various eye-catching products.
In recent years, LED products of smaller pixel pitch are seen a growing needs in outdoor commercial display markets, and QSTECH has launched an outdoor fine pixel pitch series called ARTEMIS ST, which features light-weight cabinet, front and rear access, and fast cabinet disassembly within 5 seconds, to join the competition. This series is able to satisfy outdoor HD display demands up to pixel pitch of 3.9mm, and deliver image or video with high resolution.
DORIS indoor series is the latest indoor standard product for commercial display market. With 480*540mm small-size cabinet, the series can achieve more creative applications especially in shopping malls or retail stores. No matter in wall-mounted installation or hanging installation, its dual-side access mode will contribute to a much more effective installation and maintenance. Moreover, this product will provide customers more flexibility for customized projects.
As one of QSTECH best-selling products, CRIUS intelligent LED poster has been widely used in shopping malls and retail stores by its versatile application modes. As a standard product, the CRIUS is ready to provide display service right after unpacking by plug-and-play operation. And through multi-units splicing application, 5 CRIUS LED posters can become 138-inch display with 16:9 aspect ratio to publish advertisement via WIFI, HDMI or cable connection.
Apart from HD video wall application in command and control room, HERA PRO-I fine pixel pitch series can also be creative in a 90°splicing screen. Not only can it provides HD displaying effect, but also suitable for customized material displaying.

At last, we prepared ATHENA GLASS WALL LED display, the invisible transparent LED Video Film solution for the show. With Unique Ultra Transparent LED Video Film Technology, the product will turn glass windows and facades into Dynamic Video by sticking the module to the glass surface directly. The non-bezel, frameless, ultra lightweight LED Video Film guarantees the highest transparency and lowest weight possible. Because of the Ultra-thin and cuttable design, this display solution can fit any size.