2020 QSTECH New Year Conference and Awards Ceremony
Time to party and celebrate! On January 20, all members of QSTECH and honorable guests from CVTE are invited to attend 2020 QSTECH New Year Conference and Awards Ceremony at Grand Hyatt Xi'an. We get together to review each step in 2019 and set New Year resolution for 2020. And, of course, we send our appreciation to QSTECH Stars who energize the company! Let's make a toast to QSTECH! Work Hard, Dream Big, Light Up New Vision with QSTECH in 2020!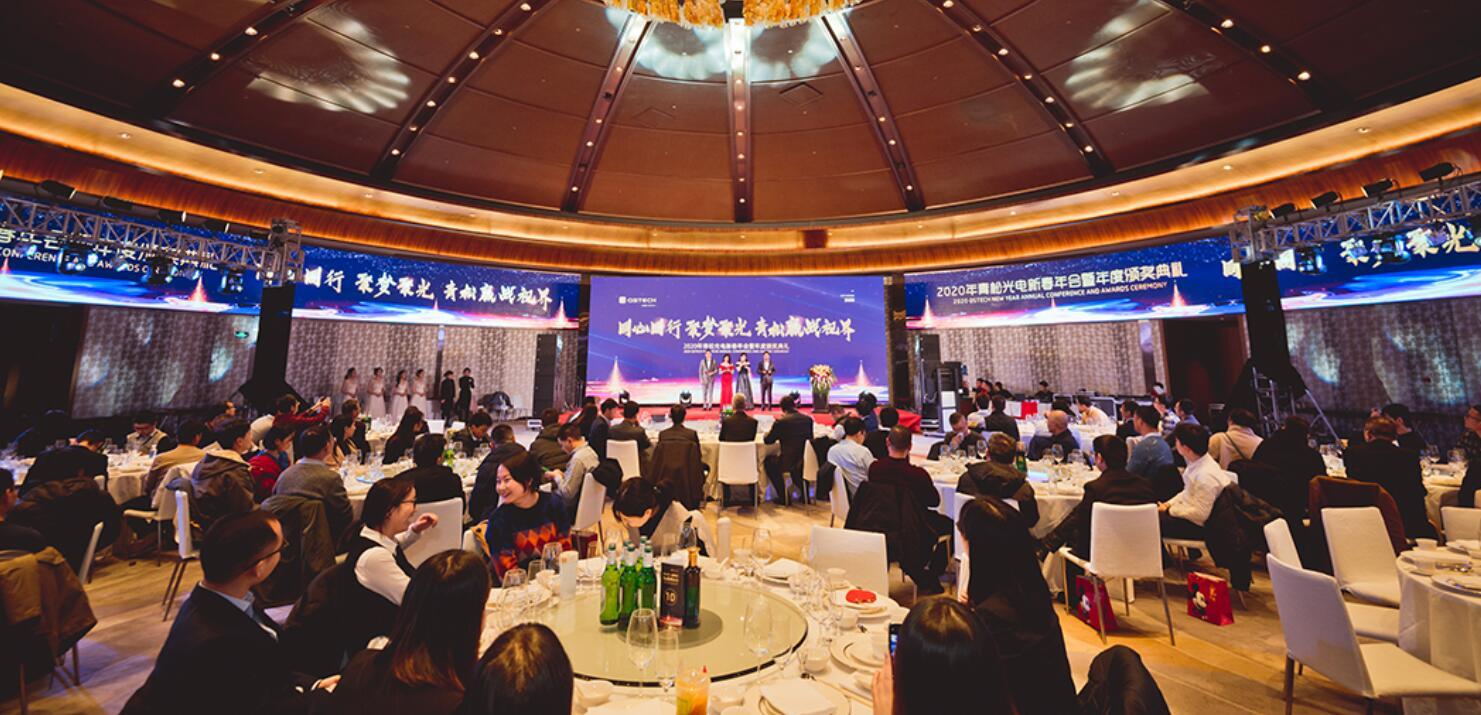 Chapter 1 Opening
On January 20, QSTECHers arrived at the banquet hall of Grand Hyatt Hotel in Xi'an as scheduled. They signed in and took photos in front of the theme signature board, and then found their seats with the luxurious gift bag of the year of the rat prepared by the company.

With the countdown image on the big screen, the banquet officially started, and four hosts came on stage.
Mr. Chen Haoyu, the general manager, sent his new year's greetings through a short video. He concluded: looking back at 2019, QSTECH has experienced a crucial transformation, which is accompanied by setbacks and challenges. And he believed that QSTECHers will work together to accomplish more in 2020.
Then, Ms. Huang Xia, the director of HR department, brought a comprehensive presentation of QSTECH 2019 achievements and prospect for 2020!
With the warm applause, Mr. Zhao Furong, founder of QSTECH, was invited to deliver a new year's speech. And Mr. Wang Yang, director of CVTE group and Mr. Wang Haiyuan, President of BG investment and M & A, also sent warm New Year greetings to QSTECH.

As the theme states, in the 2020, QSTECH people will work together to constantly improve product quality, build core competitiveness, create reliable and high-quality visual experience for global customers, and strive to achieve the dream of QSTECH.
Chapter 2 Awards Ceremony
Every year's growth and progress of QSTECH are inseparable from each QSTECHer. They have dedicated their talents and indigence on daily work and made contributions to product R&D, company management and sales and service.
In recognition of these QSTECH role models, the company arranged the award ceremony of 2019 to express many thanks and expectations.

Chapter 3 Party
As the party began, lovely QSTECHers from different departments brought various programs, including dance, singing, poetry recitation, creative performance, crosstalk and so on. On the stage, their performance won bursts of warm applause and pushed the atmosphere of the annual meeting to the highest point.

At last, the company prepared a sumptuous dinner for everyone to celebrate the precious moment of reunion. In the 28 years of development, QSTECH people have strived to be the first to provide the world with outstanding display products and will forge ahead in the future.