ISE 2023 - QSTECH's Latest Products and Solutions Stand Out
Integrated Systems Europe (ISE) 2023 takes place in Barcelona, Spain, from 31

st

January to 3

rd

February 2023. It is the world's leading AV and systems integration exhibition. Since 2005, CVTE and its subsidiaries QSTECH and MAXHUB

have participated in

19

consecutive ISE exhibitions. No exceptions were made this time.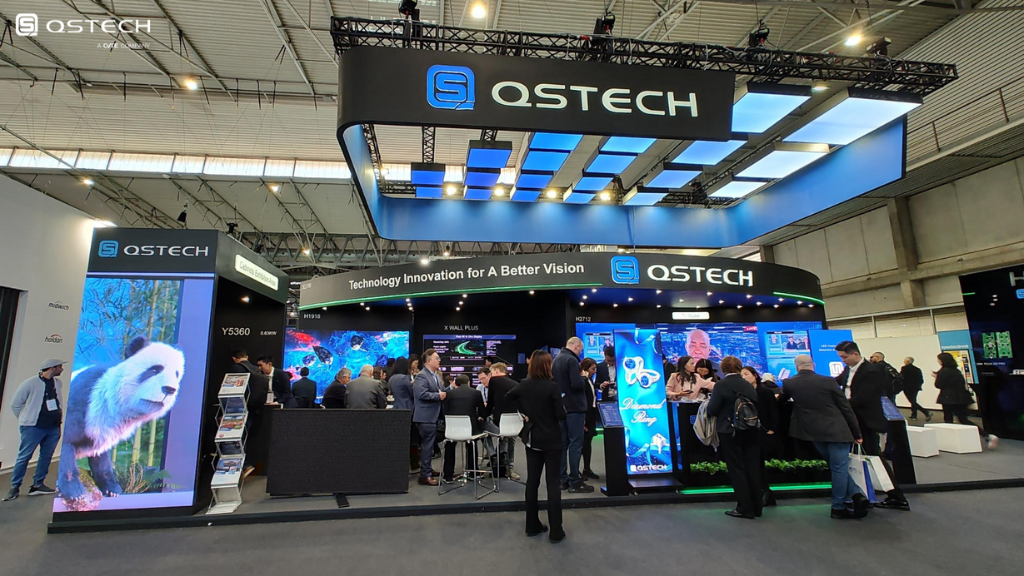 QSTECH, a leading provider of display solutions around the world, offers cutting-edge, innovative LED display products for TV studios, naked-eye 3D displays, DOOH, commercial advertising, conference rooms, etc. Its ultra-high definition, energy-saving, and high-efficiency products really stood out and drew enormous attention at ISE.
1. QSTECH Products Contribute to a Successful ISE Expo
At the stage of ISE preparation, QSTECH has been favored by the ISE organizers due to its cutting-edge LED products with excellent features such as high brightness, high contrast, high resolution, and high refresh rate, etc.
Many QSTECH Indoor LED displays were purchased by ISE officials and widely used for entrance signage at the ISE Halls. A notable example is the 50㎡ entrance signage for Residential & Smart Buildings in Hall 2 of ISE, which uses QSTECH's 2.5mm SMD LED Products - N31 Series. As it offers powerful features like Vivid Color Displaying, Dynamic Energy Saving, and Wireless Screen Sharing, it can also be used in a variety of scenarios (like arcs, three sides, etc.), including commercial scenarios like command centers, monitoring reception halls, lecture halls, airport stations, Car Dealerships, and naked-eye 3D advertising displays.
2. Cutting-edge Products for Diverse Market Segment
In QSTECH's booth, you will find LED posters, LED all-in-one displays, Y53, C27, B71, H31, H19, H27, and more. Through 6 exhibition areas, QSTECH presents cutting-edge, innovative LED display solutions for a variety of applications:
- TV studio
- Naked-3D displays
- DOOH
- Conference room
- Commercial advertising
- Sports Venues and Events
- Data Visualization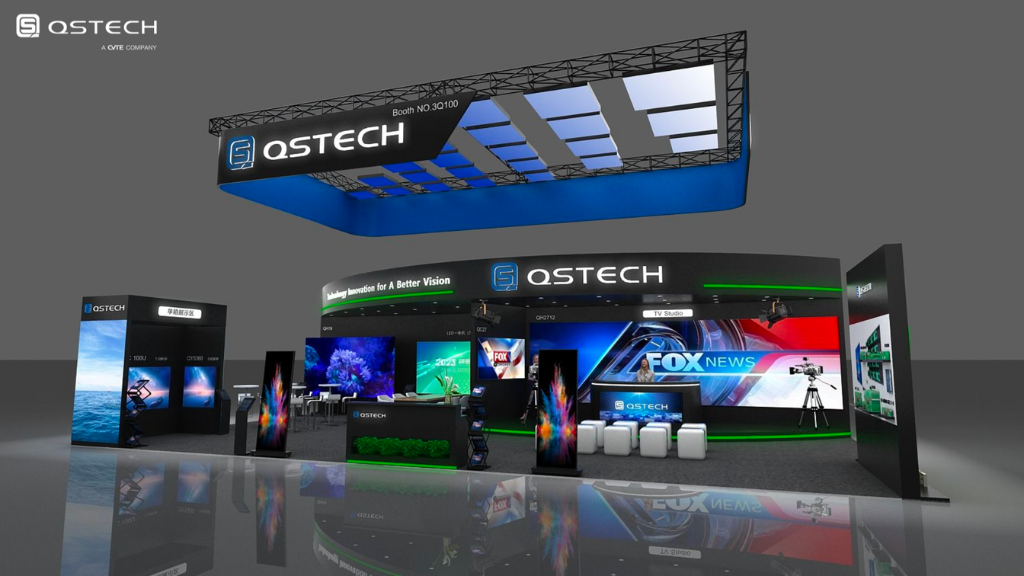 ​​​​​​ 2.1 TV Studio Solution
As the technology of broadcasting advances and develops, digitalization, high-definition, and networking have become irresistible trends. LED displays play a more and more crucial role in TV production. However, a traditional TV studio has a very low reuse rate and a long cycle for replacing scenes.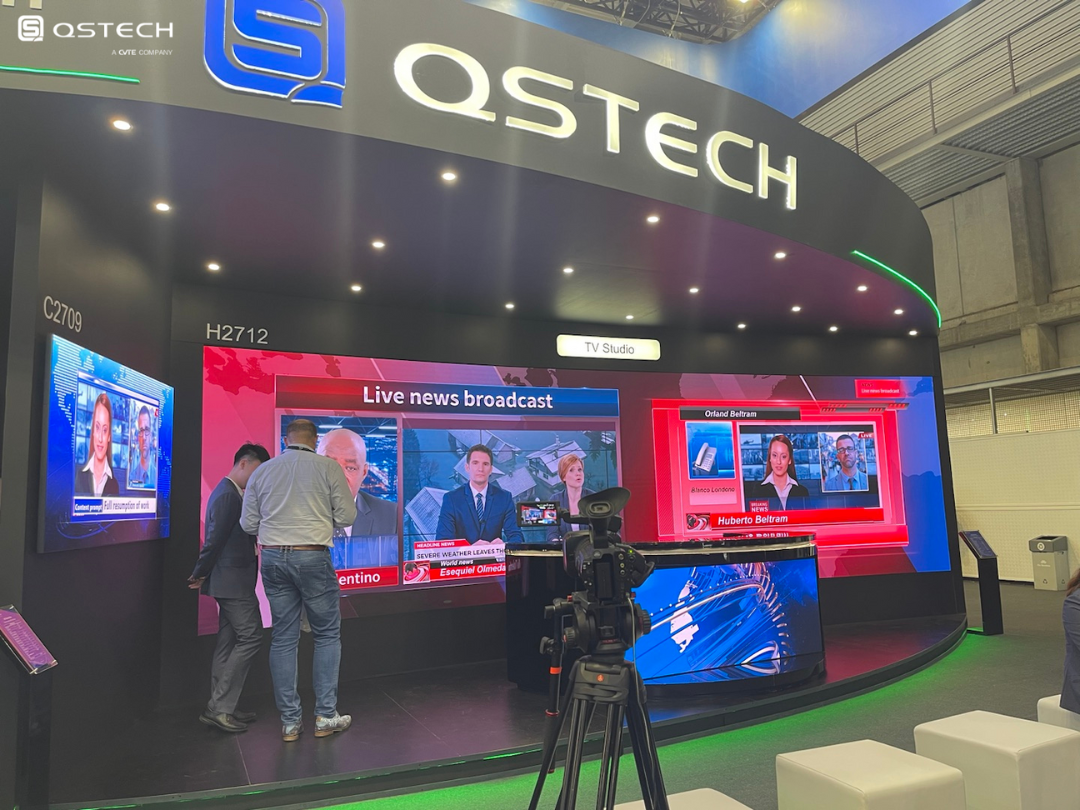 To overcome the traditional disadvantages, QSTECH presented an innovative TV studio solution that utilizes LED display technology by highlighting its H27 and C27 Series COB Mini LED products. Film and television professionals can certainly benefit from these products because they are no optical patchwork, low brightness, high gray levels, lossless static and dynamic images, and a natural and uniform presentation. This will greatly enhance the content of the program when the display is combined with recording and broadcast systems, streaming media systems, nonlinear editing systems, and media resource management systems.
2.2 C

omference

R

oom

S

olution
At booth 3Q100, QSTECH promoted its well-received all-in-one LED machine as a conference room solution due to its cost-effectiveness, ease of use, energy efficiency, environmental friendliness, and high-definition display, which meets the needs of modern conferences. Numerous exhibitors praised its simple operation, all-in-one design, and comprehensive features.
For the last three consecutive years, QSTECH LED all-in-one machines have ranked first in market share for LED all-in-one machines in mainland China. In addition, QSTECH and its brother company MAXHUB recently launched a well-received LED all-in-one machine!
2.3 Digital Out-of-Home (DOOH) Solutions
Digital advertisement is most effective with an LED display because it creates a fascinating effect. As an experienced provider of DOOH solutions, QSTECH specializes in outdoor LED displays that provides exceptional picture quality with clear visibility even in a variety of extreme conditions.
The Y53 Series is QSTECH's masterpiece of DOOH solutions, featuring five major features and five energy-saving technologies. High-efficiency, energy-saving, all-in-one design, cool variety, stably reliable, and convenient to use.
Compared to similar products, QSTECH's Y53 series is more efficient and consumes 60% less power, so that you can save more money. Despite its low operating costs, the Y53 series products can withstand severe weather conditions such as high temperatures, high humidity, and high salinity, making them an ideal outdoor display that is both energy-efficient and environmentally friendly.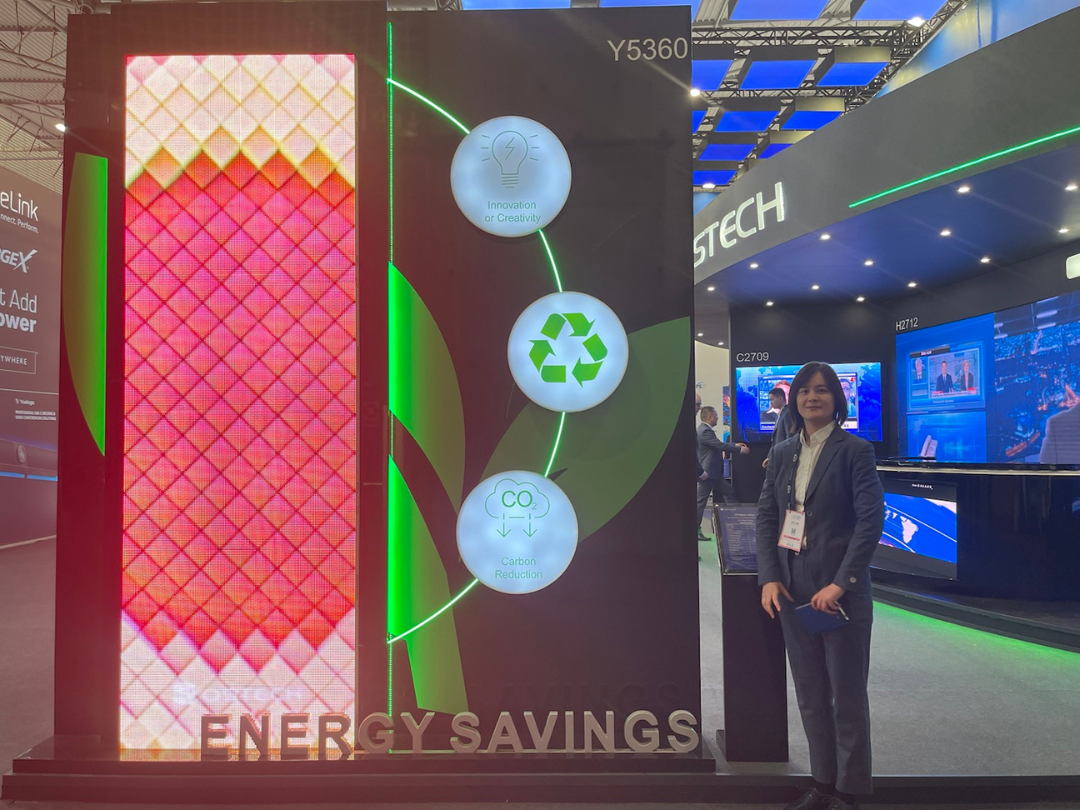 Using this flexible, light, vivid display, advertisers can create engaging shopping experiences with eye-catching images and 3D effects. An unparalleled three-dimensional visual effect will be achieved through seamless curved/cornered splicing and whimsical creative content.
2.4 Commercial Display Solutions
As public demand for aesthetics and quality of information grows, the traditional static display and boring sound and light display is no longer able to meet market demands. Thus, QSTECH provides LED poster machines, H31 and H19 series display products for a brand-new generation of commercial display solutions.
Their features include highly integrated designs, high refresh rates, bright colors, energy-saving technologies, environmental protection, and low consumption. By incorporating interactive applications and creative advertisements, these products can empower commercial displays, create immersive scenes, and enhance the visual experience.
3. QSTECH's Immersive Booth Experience Received Many Acclaims
ISE is a meeting place for new friends and old. QSTECH's technicians utilize the "explain + experience" method to provide a zero-distance immersive experience for these friends.
A steady stream of visitors came to QSTECH's booth 3Q100. The UltraHD Mini COB LED display products and professional solutions offered by QSTECH have been very well received. Visitors showed great interest in QSTECH's range of UltraHD Mini COB LED displays and professional solutions for multiple scenarios.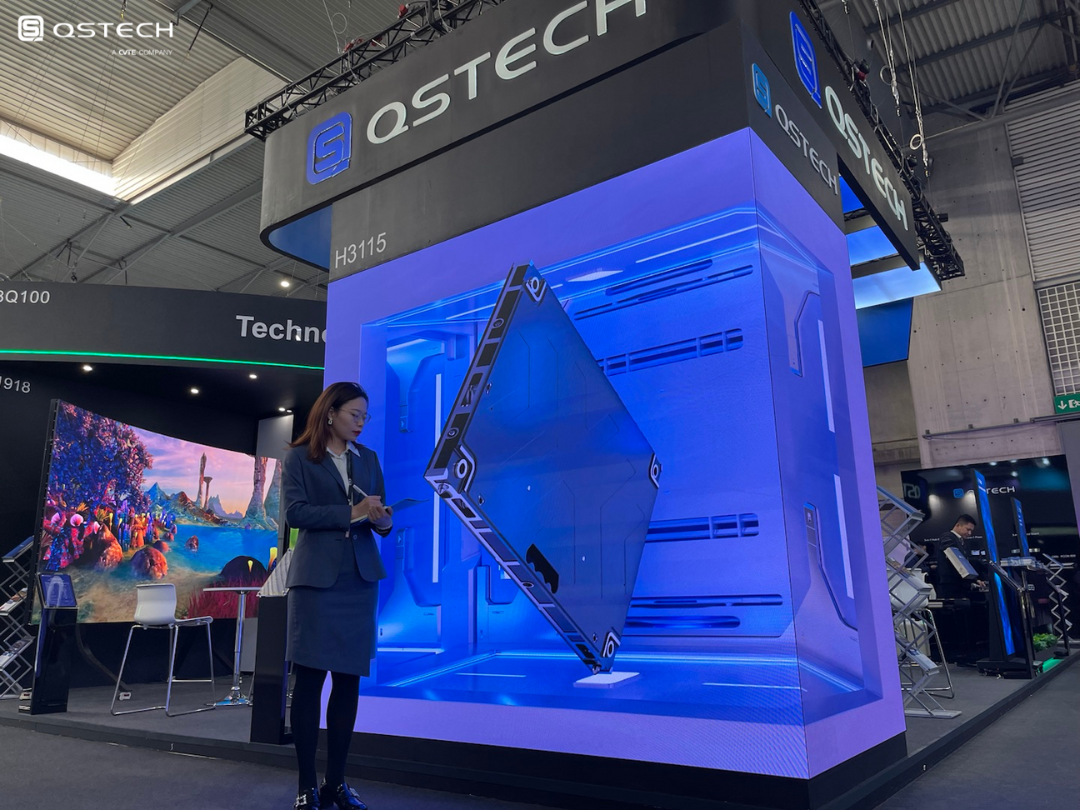 A lot of new friendships were formed and many wins were gained during this exhibition by CVTE, QSTECH, and MAXHUB
In the future, QSTECH will continue to focus on the R&D of LED technology and product innovations, bringing more valuable products and solutions to serve users and create a better vision for society.
About

QSTECH
QSTECH CO.,Ltd.was established in 1992, a share-holding subsidiary of CVTE group(SCN:002841), worldwide famous display products and solutions provider.
Empowered by CVTE's strong and leading electronic R&D capacity, QSTECH focuses on LED product research and sales and is dedicated to providing professional solutions with display technology as the core.
As a mature LED brand under CVTE, QSTECH aims to create ultimate experience products, easy and convenient, eco-friendly integration services.
Media Contact
Lihong Zhu
CVTE QSTECH Marketing Team
Email: marketing@qs-tech.com
Official Website: https://www.qs-tech.com/
QSTECH,CVTE,ISE,ISE 2023,led display solutions,led display products