Create another benchmark! Qingsong 1300 square meters naked eye 3D screen shines at Guangzhou China intelligent network National Innovation Center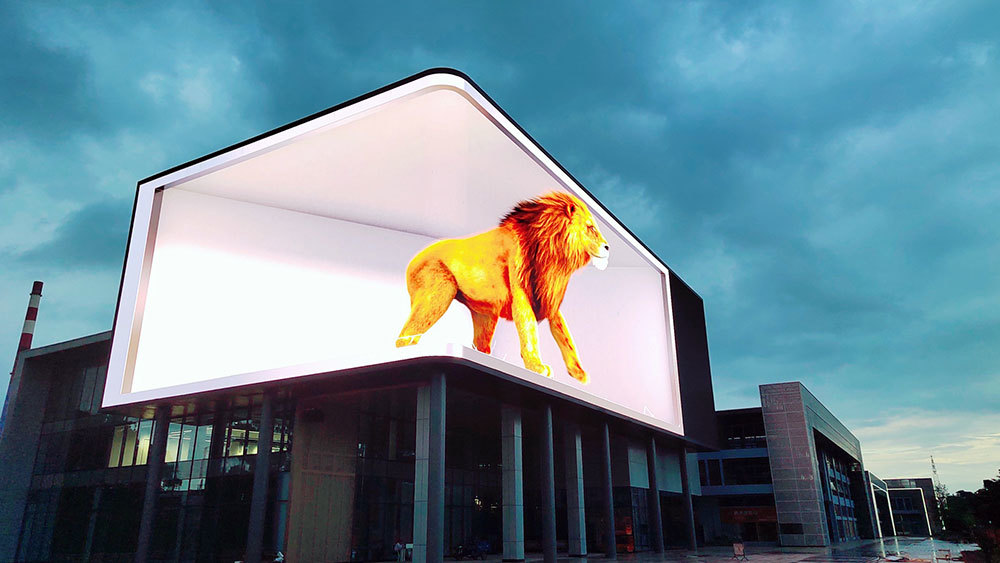 Located in Huangpu District, Guangzhou, with a total construction area of 38000 square meters, China intelligent network national innovation center is the core carrier of the ten mile digital economy industry corridor in Yuzhu area of Guangzhou artificial intelligence and digital economy experimental zone. It is a major innovation characteristic project in the "celebration of one hundred years" in the region, and it is also the first science and technology project completed by enterprises in the region as a whole in China. Qingsong optoelectronics, as a high-tech enterprise in the field of LED display, has become the preferred manufacturer of naked eye 3D large screen in the center.
The highly creative naked eye 3D video matching technical indicators are at the leading level of "HD giant screen" in the industry, and China intelligent network National Innovation Center has quickly become a new landmark building in Huangpu District, Guangzhou! Many well-known enterprises in Huangpu District integrate naked eye 3D technology with enterprise publicity to more vividly interpret the charm of the enterprise brand!
Compared with the conventional outdoor advertising screen, the realistic presentation of naked eye 3D effect is more complex. Not only the viewing angle, the matching degree of light and creativity and other factors should be considered, but also whether the splicing flatness, brightness and viewing angle of the display screen reach the best quality. The LED display of Qingsong photoelectric outdoor business display scheme has the performance of high brightness, automatic brightness adjustment, good color restoration, low power consumption and long life. It can meet the stable operation of outdoor all-weather. It is equipped with the overall solution of software and hardware broadcast control and operation and maintenance platform. The creative content of whimsical ideas is perfectly integrated with the real environment to create a realistic and shocking three-dimensional visual effect.
Qstech outdoor display scheme function
1. HD display: 2K, 4K, 8K and other super-resolution HD display, adaptive brightness adjustment, clear and vivid image, soft and not dazzling;
2. Creative modeling: it can splice inner arc, outer arc, corner, sky curtain, multi-faceted rotation and other creative modeling;
3. Naked eye 3D visual effect: 3D video content is vividly displayed through LED display screen to create realistic and shocking three-dimensional visual effect;
4. Remote centralized control: remote centralized information release, scheduled program, live broadcasting, remote status monitoring;
5. Information security: login identity authentication, transmission encryption, information release process is safe and reliable.
6. Low cost operation: the application of shunt power supply energy-saving technology, high-efficiency power supply and automatic heat dissipation control technology can save power consumption, delay attenuation and prolong the use of screen
Life span.