QSTECH & AMF announce XWALL LED All In One Intelligent Displays distribution (Paris, 1st September 2022)
QSTECH officially appoint AMF as the Exclusive Distributor in France for its X-WALL Led All-In-One Intelligent Displays. The two companies have joined forces in order to establish a Strategic contract in the All In One Led Display market.

The Partnership strategically aligns both companies by combining the strength of QSTECH the leader of the All In One Led Display, with AMF expertise as a leading LED Distributor in France.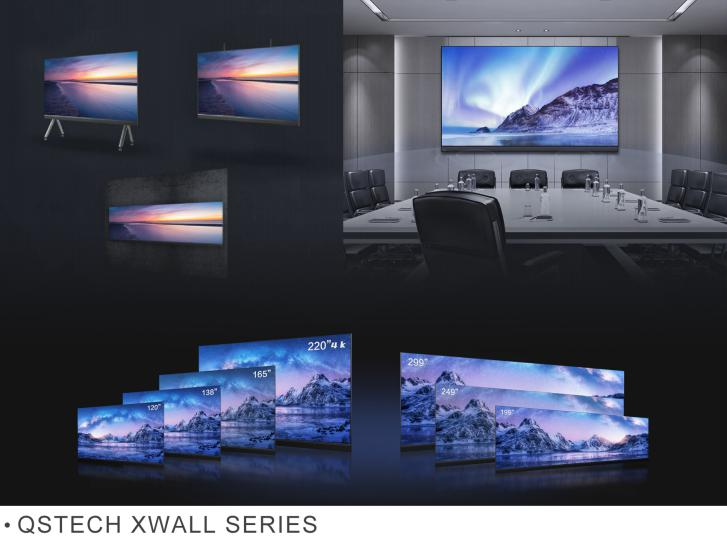 Shengbo Zhao, Director ofoverseas business at QSTECH, commented that "QSTECH has always dedicatedintheR&D of LED display productsand solutionsfor over 30 years.We areenthusiastic to grow with ourpartner AMF from this new AIO business opportunity. Establishing a deep relationship with AMF helps us to bridge the gap between local display market needs and our development on LED display products and solutions."
Paul Morris, AMF General Manager commented that, "Thanks to QSTECH leading market position in AIO Displays, AMF will have the best product offering covering all the market segments. We remain convinced that this partnership will bring many opportunities by providing an outstanding X-WALL customer experience in France."
About QSTECH
QSTECHCo., Ltd. was established in 1992, and now is a share-holding subsidiary of CVTE group (SCN: 002841), worldwide famous display control products and solutions provider.
Empowered by CVTE's strong and leading electronic R&D capacity, QSTECH focuses on providing global markets with professional Led display productsand solutionswith industry-leadingdisplay technology as the core.
As a mature Led brand under CVTE, QSTECH aims to create ultimate display products, as well as provide convenient and easy-to-use, green and environmentally friendly packageservices
About AMF
Established in 2012 as a Led Added Value Distributor
Fully dedicated to System Integrators, dealers, for IT & AV channels
For Years AMF has been at the forefront of led Display sales & developments
Totally dedicated to led products covering, design, engineering, sourcing, services, sales
AMF has Built a solid experience in the Led Display Market
The unique AMF Led Display showroom covering all product categories offering the best customer experience.
Contact:ahcene.tirane@amf-led.fr | +33(0)6 70 25 14 14
website : amf-led.fr